The Name Game: Canes/Isles
We're two incredible games deep in the second round series against the New York Islanders, and I think it's time to look at the important matchups in these games: Those players who share the same first name. Let's dive in with:
Michae(ea)ls: Ferland v Dal Colle
ADVANTAGE: FERLAND
This one's a no-brainer. Micheal Ferland has the more unique spelling, the WAY better twitter handle (Ferdaddy over MDalColle71), and apparently Dal Colle is a monster who prefers pulp in his orange juice. When it comes to production in this series, there's no question on these two. They've put up shot-for-shot, goal-for-goal the exact same this round: neither have played in a game yet. *internet shrug* (I don't know how to type out that fancy shrug thing)
Brocks: McGinn v Nelson
ADVANTAGE: NELSON
This one is close. Both Brocks have a lot going for them! McGinn has a gorgeous head of hair, whereas Nelson has steel wool dyed brown on his scalp. When it comes to their names, McGinn suffers from the Gif/Gif pronunciation battle. Is it McGinn or McJinn? Who knows. Even he doesn't. Nelson is easy to say! Nelson is head and shoulders over McGinn, mainly because of his foot-long neck. Overall it's gotta go Full Nelson.
Jordans: Staal and Martinook v Eberle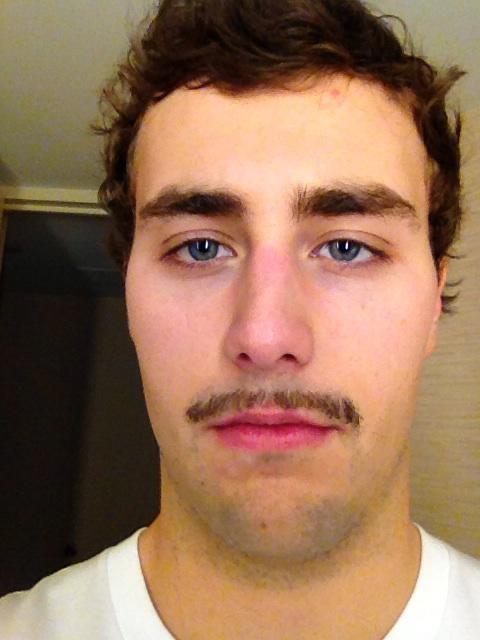 ADVANTAGE: STAAL/MARTINOOK
These two are the closest matched so far, I think. This series, Eberle has an assist on the only goal scored by Slavin the Islanders, and Staal has the game-winner in Game 1. Staal was born in 1988, which has been scientifically proven to be the best year to be born. Eberle was born in 1990, which is just boring. Nothing good came out of 1990. Die Hard came out in 1988. You know what movie came out in 1990? The Godfather Part III. 1990 was THE WORST.
Martinook has the edge over Eberle in mustache alone. I mean. Look at those.
Canes win The Name Game 2-1 here, which bodes well for the series. I mean the 2-0 series lead coming home bodes even better but ¯\_(ツ)_/¯ (hey I copy/pasted figured it out!). Hopefully, if we move on, we face Boston. I'd love to analyze Aho/Urho!