Playing Risk: Why Ron Francis Takes The Fall As GM
So yesterday Ron Francis was taken to a farm upstate named President of Hockey Operations for the Carolina Hurricanes in a surprising move that collectively got the league buzzing and started more finger-pointing than two Spider-Men in front of an NYPD paddy wagon. The team announced that it will conduct a full search for a new general manager, who will report directly to team owner Tom Dundon. While many assumed that the fall guy for the Hurricanes mediocre performance this season would be head coach Bill Peters, it was Francis who took the bullet, while Peters is safe #ForNow.
So why Francis? Almost four years into what amounted in a nearly complete rebuild of a team that not only failed to make the playoffs, but had almost no prospects in place when the former Hurricanes captain took over, Francis has overseen the Hurricanes rebuild their prospect pipeline, and make low-risk moves that would (on paper, at least) slowly build the Hurricanes into a perennial playoff contender. But slowly was the key word here, and new owner Dundon bought a team that was – for all intents and purposes – very close to a playoff contender, so patience wasn't in the cards, especially after seeing a team that was holding a playoff spot drop 5-2 and 6-1 blowout losses in critical divisional games. After a 6-2 blowout on Tuesday against the Minnesota Wild, with former face of the franchise Eric Staal scoring two of those goals himself, Dundon had seen enough.
Critics of Francis will point to his drafting, which is still difficult to do less than four years into his tenure – the oldest players to examine are going to be generally 21-22 at this point – but people love to do the "what if" game, so let's take a look.
In 2014, Francis' first draft with the Hurricanes, the team surprised a few by selecting defenseman Haydn Fleury, out of Red Deer of the WHL. They could have selected Nikolaj Ehlers, who'd go two picks later to Winnipeg, or David Pastrnak, who went 25th to the Bruins and is second in points in that 2014 draft, only behind Leon Draisaitl (3rd overall). But Francis elected to consider team needs more than best available player and took the second best defenseman available in the draft, only behind #1 overall selection Aaron Ekblad. Will the choice to go with a defenseman be criticized for years to come if Fleury doesn't dazzle for the rest of his career? Sure, but remember that if Ron Francis chooses to go with the "expected" player instead of the defenseman he ended up picking, the top player on the board isn't Ehlers or Pastrnak – it's probably Nick Ritchie, a 6'2″, 230lb winger who had 28 points in 77 games last season, and is 6-16-22 in 61 games currently for Anaheim. We'd still be making the same argument. In that same draft, he takes Alex Nedeljkovic in the second (who's been hot and cold for the Checkers this season), with leading AHL rookie goalscorer Warren Foegele selected in the 3rd and Lucas Wallmark coming on a 4th round pick.
In later drafts (because, again, it's difficult to grade drafts when the majority of players are either in their first pro season or still in junior/overseas), Francis appeared to go towards the best available player. Argue all you want with your crystal balls, but it's ridiculous to say that Noah Hanifin over Zach Werenski was even a thing. Ask Columbus, the team that would eventually try to trade up to get the #5 overall from Carolina – they weren't trading up to get Werenski. And yes, while this year's Calder candidates Mathew Barzal (16th) and Brock Boeser (23rd) went in this draft as well, the Hurricanes would select Sebastian Aho (35th) in the second round, so that worked out pretty well.
It's when you get to 2016 where you start to see issues. Again, it's not the picks so much (Jake Bean went around where he was expected to, and Julien Gauthier looked to be a steal at 21), but the fact that the Hurricanes made them at all. The Hurricanes had made a 15 point improvement over the previous season, despite trading away veterans Eric Staal, Kris Versteeg, John-Michael Liles. The youth was already coming into play – Jeff Skinner, Justin Faulk, and Jordan Staal were already established, while players like Victor Rask, Elias Lindholm, Jaccob Slavin, Brett Pesce, and Noah Hanifin were already at the NHL level and performing better than expected. Teuvo Teravainen was just stolen from Chicago. Sebastian Aho was wowing everyone at 19 and was ready for his first NHL season. The rebuild was going much quicker than expected – all the team needed was a few more pieces, and it was playoffs, baby!
Except it wasn't. Widely expected to trade at least one of the team's two first round picks, to either move up in the draft or get a player who could immediately help the team, Francis elected to stand pat, drafting his best available picks. New acquisitions came in the form of Lee Stempniak and Viktor Stalberg – two affordable options that were low risk/low return – and that's where the questions started to rise.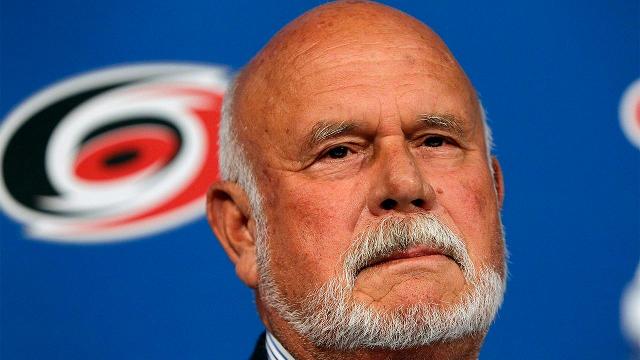 How much of Francis' moves were as a result of being hamstrung by finances? After all, the Hurricanes weren't exactly swimming in money, and then-owner Peter Karmanos was actively shopping the team and putting the team into more debt by signing high-risk players to big contracts (hi Buffalo) wasn't going to help sell the team. Did Francis keep his draft picks because he knew he wouldn't be allowed to bring in another $6 million a year player into the fold? This became the assumption – Francis is doing the best he can with what he can work with, and unfortunately for him, the team stagnated – a one point improvement over the previous season, and once again sold at the deadline, dealing off veterans Stalberg and Ron Hainsey for draft picks.
During the 2017 offseason, something happened that put more pressure on Francis. Peter Karmanos opened the purse strings, and gave team management more money to potentially bring on more talent. Francis used this larger financial freedom to make two of his biggest moves as Hurricanes GM – trading for the rights to (and later, signing) goaltender Scott Darling, and signing free agent (and former Hurricane) Justin Williams. Even with the expanded spending ability, both of Francis' moves were essentially no-brainers: Darling was arguably the best goaltender that would be available in the free agent market, and Williams was a prodigal son that – even if he flopped – gave the fanbase the warm and fuzzies because he was a reminder of that magical time when this team was on top of the world. There was no real "risk" there – Darling was the goalie he was "supposed" to get, and bringing back Williams was always going to be looked upon as the "right" move by the fanbase.
The word "risk" is what would eventually end Ron Francis' tenure as general manager of the Carolina Hurricanes. It's not the signing of Darling (despite what some may lead you to believe), it's that there wasn't enough moves like the Darling move that Francis was willing to do. Later, after the team was sold to Tom Dundon, it seemed as if the shackles were off of Francis. Even after Karmanos gave Francis more money to play with, the sale was finally complete, and new owner Dundon came in and was ready for change, and he wanted it sooner rather than later. As the trade deadline came closer, and the Hurricanes hovered around the same record that they've had the last two seasons, Dundon looked for Francis to roll the dice.
Francis did not.
And yes, it's absolutely possible that the trades that Ron Francis wanted weren't out there, but unfortunately, the trades that Ron Francis wanted are unicorns, especially at the trade deadline. Chicago isn't going to give you Teuvo Teravainen at the deadline. To be a professional general manager in the NHL, you have to be willing to make a trade that has the potential to bite you in the ass later on down the line. Through the nearly four seasons as general manager of the Carolina Hurricanes, Ron Francis NEVER traded away:
a first round pick
his team's own second round pick (he dealt two seconds that were acquired from other teams)
a starting player who wasn't a pending UFA
But as that trade deadline approached, as the Hurricanes stood either in playoff position or just out of it, Dundon looked for Francis to roll the dice, to take that risk, and Francis was unwilling to. Then it all started to cycle back:
Drafting Fleury in 2014
Drafting Hanifin in 2015
Drafting Bean/Gauthier in 2016
Trading Khudobin for Wisniewski
Trading a 3rd and 7th for Eddie Lack
Trading magic beans for Kris Versteeg and Joakim Nordstrom
Trading a 2nd and 3rd for Bryan Bickell and Teuvo Teravainen
Everything is safe. No dice to roll in any of those decisions. It took a new owner and a blank checkbook for the truth to be revealed – Ron Francis wasn't going to (potentially) sacrifice more later on for the benefit of now. And, unfortunately, unlike his predecessor who had absolutely no issues with sacrificing the future for the benefit of the present, Ron Francis was completely the opposite, promising that while today might not be ideal, it's tomorrow where it'll all pay off.
The problem was that, as some little red-haired girl once told me, tomorrow is always a day away.