Numbers for Next Year
This season was much needed. From the seemingly never-ending string of talented young hockey players who have made an immediate impact on this season, to the stellar seasons many of our newly drafted prospects have enjoyed, this season has been a breath of fresh air for many Carolina hockey fans. As we all know, and all have probably said at least once, the future is bright. And that feels damn good.
So we look forward to next year's Carolina Hurricanes with anticipation, a glimmer of playoff hope, and, maybe for the first time in a while, a strong sense of pride in our boys. There's still work to be done, sophomore slumps to be avoided, and I'd expect some Draft Day / Free Agency Day deals to be made.
But as it stands now, what should we look at within this group? Where can things improve to get this team into playoff hockey? Here are 5 fancy stats from this season that I believe are important in this team's identity and to their success going forward.
-6.21
Justin Faulk's 5v5 Goals For % Relative to Team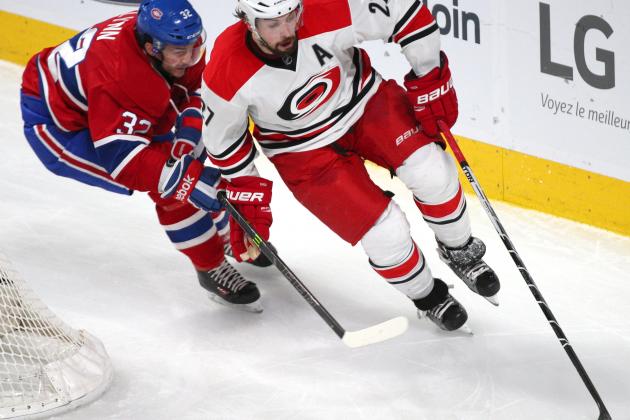 This statistic describes the effect Justin Faulk has on the Canes Goals For %. When Faulk is on the ice the Canes score 44.19% of the goals that occur, dropping from 50.4% when he is not out there.
Keep in mind this is 5v5 only, and that Faulk spends over 60% of his ice time against the opponents' higher quality, top six forward group, as seen below. (Chart credit to @omgitsdomi)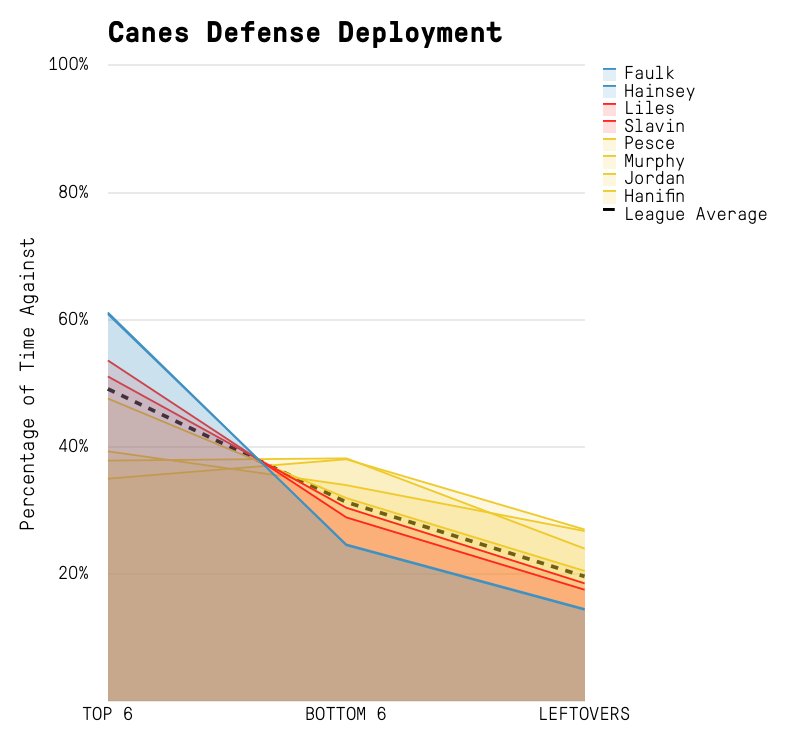 It's also worth noting that Faulk is paired with Ron Hainsey, who has played well for us and likely exceeded expectations, but wouldn't find a top pairing role on the majority of NHL teams.
As a defensive-minded team with the capability to lock down the offense of opponents, I believe it's important that Faulk improves in his ability to become our shutdown guy. Our system and talent to grind out wins will only improve if our best defenseman becomes more well rounded. This team's continued growth and improvement in goaltending and scoring, and continued pairings with the impeccably mature Jaccob Slavin, will hopefully lead Faulk down a path to success in being not only an offensive threat, but a suppression expert as well.
1768
Jeff Skinner's Career 5v5 individual Corsi For
There are only eight players with more 5v5 shot attempts than Jeff Skinner since he joined the league. The kid just flat out creates offense. He should be the offensive focal point of this new era of Hurricanes hockey. I truly believe that Skinner's scoring potential has yet to be fully tapped and past streakiness was likely due to concussions, poor coaching, and uncomplimentary linemates. We've found one linemate lock in Victor Rask, the yin to his smiling yang. I'd love to see what Sebastian Aho's passing and creativity might do to Jeff's game, and I get the feeling that might not be too far off.
We've also found a coach in Bill Peters that has seemingly learned from Skinner as much as Skinner has learned from him. Both Skinner's defensive game and Peters' deployment of Skinner have improved this season.
96.15 & 99.02
Cam Ward & Eddie Lack's low danger save percentage (5v5)
Although I feel that talking about Hurricanes goaltending is equivalent to hearing nails on a chalkboard, it's just something that can't be avoided. Among goalies with over 1,000 minutes played this year Cam is 2nd to last in low danger 5v5 save percentage and Eddie is the best in the league. The NHL average is 97.49.
Low danger goals against are soft goals nine times out of ten and, for a team that has trouble finding offensive consistency, they simply cannot be tolerated to have hopes of remaining competitive for a playoff spot.
I would be remiss if I didn't mention that Cam has a much stronger medium danger save percentage (93.3 to 90.2) and slightly better high danger save percentage (83.2 to 82.1). As we all know, there are no easy answers when it comes to our goalies. Sadly, I think if Cam, who has gotten the majority of playing time, had more consistency in the low danger area we might be looking forward to our season continuing.
46.6
The Nordy/Jordy/Nesty line 5v5 Corsi Against per 60 minutes
What a bonus this line turned out to be and what unexpected treasures Joakim Nordstrom and Andrej Nestrasil have been for the Canes. A superb checking line, their skill at limiting opponent shot attempts is the fourth best in the NHL among lines with 400 or more minutes together. It also doesn't hurt that when they were on the ice the Canes got 54.4% of the goals.
When this line was rolling Jordan Staal played his best hockey as a Hurricane and turned into a beast of a power forward and Nestrasil looked like he could be a potential 20 goal threat.
Their chemistry together is a boon for a team with talent issues within its forward ranks. If we make moves this offseason and this line can slot in as a traditional 3rd line checking line the Hurricanes will be in very good shape.
Unfortunately adding Elias Lindholm in place of the injured Nestrasil has not had the same results. This new trio's Corsi Against per 60 ballooned to 53.14 and suffers a horrible goals for of 25%.
177.3 & 2.03
Noah Hanifin's Powerplay Time on Ice & Points per 60 minutes
We've seen glimpses this season of the player Noah Hanifin can and will be as he matures and gains NHL experience and those glimpses have been beautiful. His passing talent may be the strongest on the team and his role on our powerplay is an important one. He's our quarterback on the blueline for hopefully a decade plus of hockey. As the season has progressed Noah has gained more confidence in this role and it shows. Below is a 20 game rolling average of Noah's powerplay points per 60 minutes (via @CorsicaHockey).
He's being given the time to adjust to his role. His powerplay time on ice is 4th highest on the team and only Faulk has more as a defensemen. The two of them should enjoy a long career of Hanifin setting Faulk up for beautiful one-timers.
Among active Canes players with over 100 minutes of powerplay time this season, Noah is 5th in points per 60. I have a strong feeling that, this time next year, his ranking will be higher and his overall point total will be as well.
–
Looking at these five different stats, we see a team on the rise, a team that is exciting to watch and fun to support. There's certainly work to be done and problem areas to address, but as a partial plan season ticket holder, I saw more wins than losses this year–something I could not say for previous seasons. While no one can predict the future, it's nice to think that we could be watching live hockey in Carolina even after the pollen has stopped falling from the sky.