2014 Playoff Predictions: Round 1
Based on how poorly I predicted the Hurricanes season (I picked them to make the playoffs, when will I learn?), I'm going to predict playoffs one round at a time in an effort to minimize my losses. Despite the Hurricanes not being in the postseason, a lot of these matchups look like fun, and we'll get to hear the dulcet tones of John Forslund on national broadcases, so at least there's that. And now it's time for a breakdown.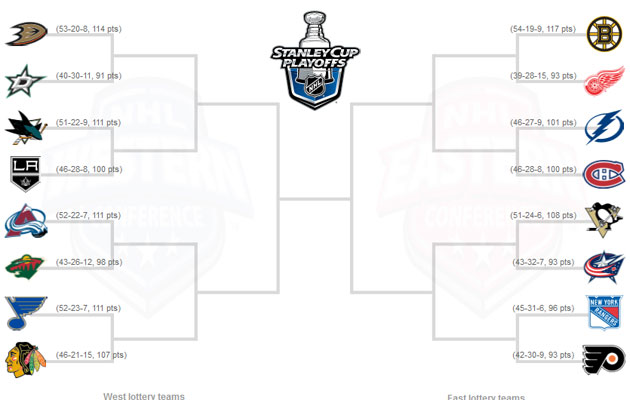 Eastern Conference
Bruins/Red Wings:  Detroit barely kept their playoff streak alive, now at an utterly absurd 23 years, whereas Boston won the President's Trophy largely on the back of winning 31 games at home.  Detroit has suffered from a ton of injuries this season, and they'll likely be without key players like Zetterberg for at least part of the series. Boston has great play at pivot, a giant on defense who doesn't seem to be missing much of a step, and Tuuuuuukkkkaaaa Rask has had a Vezina-caliber season. Boston in 5
Lightning/Canadiens: Despite losing Stamkos for much of the season, then trading Martin St. Louis at the deadline, Tampa Bay finished 2nd in their division and had 101 points. Damnit. Meanwhile, Montreal quietly (as quietly as Canada's only playoff team can) earned 100 points on the year behind another great year from PK Subban and Carey Price, as well as a 60 point season by Max Pacioretty and then they added Thomas Vanek. This could be a surprisingly fun series to watch. Montreal in 7
Penguins/Blue Jackets: First and foremost, Mike and I are fully on the Columbus bandwagon this postseason. I'm from Ohio, and if the Canes can't make it, I want the boys from the Buckeye State to do me proud. That said, it's going to be tough sledding going against Pittsburgh and their legions of bandwagon fans that will surely try to buy all the tickets in Columbus. Malkin says he's good to go for this series, Crosby won his 2nd Art Ross, and Letang is back. However, the Pens still need to rely on Fleury, and that's never a good thing. Columbus has the edge in net, and possibly team chemistry based on all the injuries and poor defensive play that has bothered Pittsburgh lately. All that said, it's hard to go against the Pens. Pittsburgh in 6
Rangers/Flyers: Both teams struggled early on this season, and turned things around. Giroux recovered amazingly from an abysmal start to finish as one of the league leaders with 86 points, Voracek posted a 62 point year, and Wayne Simmonds set a career high with 60 points. Their defense and netminding leave a lot to be desired, but Philly's gonna be Philly, no?  On the Rangers side, Lundqvist's season was similar to Giroux's as far as turning around early struggles. Raise your hand if you'd have guessed the Rangers 3 leading scorers would be Zuccarello, Stepan, and Richards (in that order). Anyone?? Didn't think so. Based on better goaltending, I'm gonna go with the Rangers, and because potential games 6 and 7 are on consecutive nights, this one has to go the distance. Rangers in 7
Western Conference
Avalanche/Wild: After an incredible start to the season, the Avs came back to reality a little bit, but still won 52 games. Minnesota was 24th in goals per game, and only won one more regulation/OT game than the Hurricanes. Despite having (the horrible contracts of) Suter and Parise on their side, I don't see the team from the "State of a shitload of lakes" pulling this one out. Avs in 6
Blues/Blackhawks: Two weeks ago, this series looked like it could be a battle of 2 stacked teams. However, Ryan Miller has played like Cam Ward lately and the Blues have all but forgotten how to score goals. That's less than ideal for a team trying to win their first Stanley Cup. On the other hand, Chicago is getting Toews and Kane back, and they still have Sharp, Keith, Seabrook, and Hossa. It still should be a heck of a good series, but there's something about Toews' intangibles that I just can't put my finger on. Blackhawks in 7
Ducks/Stars: One team has Teemu Selanne, the other has Erik Cole. I won't break this down further. Ducks in 5
Sharks/Kings: Another Western Conference series that I'm really looking forward to.  San Jose has four 50+ point players; LA has 2. The Sharks were 5th in goals for, and the Kings were 24th. LA led the league in goals against, but San Jose was no slouch at 5th fewest. While those numbers might lean towards San Jose, let us not forget that Jonathan Quick apparently drinks magic in the playoffs and Darryl Sutter's style is built for the postseason. When in doubt, go against the Sharks in the playoffs. If nothing else, it should be appointment reading on Battle of Cali. Kings in 7. 
Summary:
Derek's Picks:
East: Boston, Montreal, New York, Pittsburgh
West: Colorado, Chicago, Anaheim, LA
Bonus!
Mike's Picks: 
East: Boston, Montreal, New York, Columbus
West: Colorado, Chicago, Anaheim, LA