In an Effort to Prevent Mutually Assured Destruction
In May of 2009, I was on a trip with my husband to visit his family on the west coast. We had a layover in Logan Airport, it was right in the middle of the playoff series versus Boston, and I had on the proper headgear to represent my team in enemy territory. As I'm walking to our terminal, I pass a guy in a B's shirt, and we have a silent but intensely visual exchange.
Violence did not ensue, so that probably makes this a very uninteresting story. But it's something that will stick with me forever. It's a single moment that encapsulates the intensity, excitement, and passion that we as hockey fans have for the sport and for the team that we love. It's also a moment where I connected with a complete stranger halfway across the country over a common love and a common goal.
It epitomizes the way I used to experience hockey. I want those moments and experiences back, and I'm not the only one.
As the eighth year of a dismal playoff hockey drought mounts, frustration and anger amongst Carolina fans mounts in proportional quantities. Whether you've been a fan since 1997 or 2006 or even last year, this is a stretch that tests us all. It can bring out bitterness and apathy, both in the team and in the fanbase, and those things are not insignificant threats to the viability of a grassroots hockey market. We already see it in the dwindling attendance numbers this season. Combine that with negative national press, an owner that wants to sell, and stress from attacks by outside fans who think we're not worthy of a professional hockey team — it wears on even the strongest of us.
It's pushed some fans to the brink, and while I'm not here to spread the sunshine like JC (bless him), I am here to dump some water on the hot takes before we all immolate ourselves.
Personnel
If you're upset about recent comments to the media regarding a certain friendly goaltender, you have every right to be.
Let's be frank here: Eddie Lack's numbers are bad. Being 75th in SV% amongst NHL goaltenders at .873 is understandably something a coach finds upsetting. But publicly calling out the work ethic of a goalie who's played a total of ten games and has been sidelined several months with a concussion seems unfair, especially when his performance is being measured against a goaltender who's played 50 games and yet is 55th in the NHL with a SV% of .904. Those numbers are also bad. And when you're measuring a poor performance against a slightly less poor performance, that signals a problem with the measuring stick itself. Some fans are rightfully questioning why only one goaltender is being held accountable, especially in a manner that has now made its way to the national media.
I don't pretend to understand why Peters did what he did. He probably had his reasons. But as bad as Eddie's numbers are, it was not a good look for the coaching or the organization. Consequently it has brought even the most loyal fans who have endured this rollercoaster of a season to the point of exhaustion.
Goaltending is not the only issue with this team. Lack of scoring is another huge one, as well as breakdowns by both the forwards and defense that can largely be attributed to youthful inexperience and a roster that is carrying more bottom six talent than it needs. All of these are fixable problems, and at this point the Carolina Hurricanes organization has an obligation to their fans to make a strong effort to fix it.
When you're closing in on a decade of poor results, it's no longer enough to ask the fans to be patient while the organization waits for better results.
The Trade Deadline
Oh look, we're sellers again. I would be lying if I said I wasn't disappointed, because I, too, held onto hope that this would finally be the year the team ends the drought. But the moves made in the 2016 offseason ensured that playoffs this season would be a long shot.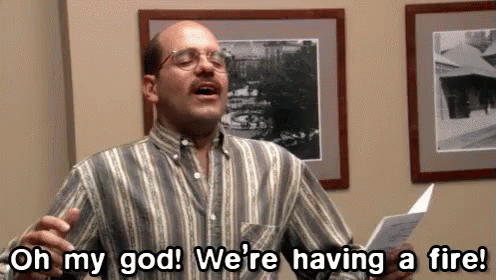 As much as I'll miss Hainsey and Stalberg, selling at the deadline was absolutely the right decision. Lest we forget how many seasons of a critical rebuild were spent selling assets to buy players who were more or less a bandage on a mediocre team that was not truly able to compete. This was a detrimental strategy, because look where it got us. GM Ron Francis has preached patience and persistence from the first day of his tenure. That's a tough sell for a team that's staring down eight years of disappointment, but that doesn't make it the wrong approach.
I know, I know. Just a few paragraphs ago I said asking fans to be patient is not enough. And that's true. But there is a compromise to be had here: patience does not preclude making roster changes. Conversely, those roster changes should not have to come at the expense of the team's long term competitiveness.
Having eleven picks in the upcoming draft may not excite you, especially if you've listened to the pundits call the 2017 class a "weak draft." First, know that having a lack of generational talent at the top doesn't make a draft class poor nor does it mean every prospect will be a bust. Second, both logic and Francis' comments at the post-trade-deadline presser indicate a high chance that all 11 of those picks will not be used. The Hurricanes already have a stocked pipeline of prospects; some of those prospects (or some of these upcoming picks) will have to be moved via trade in order to ensure that each of them are properly developed.
The Future
This stretch may feel like a low point akin to the years between 2011 and 2015, but the main difference is this: the core pieces are there and primed for success. Do not let a bad outcome this season detract from how bright the future of this roster is. Sebastian Aho is the real deal. Jeff Skinner is still a superior point-producer. Victor Rask, Elias Lindholm, Jordan Staal, and Teuvo Teravainen are strong players that will soon be joined by equally strong prospects like Kuokkanen, Gauthier, and Roy. What this roster strongly lacks at forward is a true first line center, but it's certainly not in a state that it needs to be "blown up," "sold off," or any other hyperbolic expression of frustration.
Despite some defensive setbacks, the core defense of Faulk, Slavin, Pesce, and Hanifin (yes, even in his sophomore slump) is the best we've seen from this organization in years. As they mature, they will be a force to be reckoned with, and that's not even accounting for prospects like McKeown, Carrick, Fleury, and Bean.
And whatever the future holds in goal — be it Nedeljkovic, Booth, Lafontaine, Helvig, or someone else — a multitude of factors (including the expansion draft and Peters' recent comments) have made it clear to management that changes need to be made next season.
The R-Word
What can be said that hasn't been said already? There are plenty of think-pieces and subreddits and message boards out there positing theories that can be deconstructed and rationalized in any manner. But the honest truth is that none of us has control over what Karmanos chooses to do with the team he owns. It's best to let it go and focus on supporting the hockey team you love in whatever way you can.
Finally, Take Care of You
Adversity is a test of our resolve, and our response to it is a measuring stick of the sorts of people we are or can become. Let's not let it turn us into people we are unhappy with. You and I are not the arbiter of this team's success or failure. Our support of this team should only be predicated on our mental wellbeing. Don't let others guilt trip you, micromanage you, or otherwise become the authority on your fandom.
I cite the words of RuPaul Charles when I tell you this: find your tribe. Since I have come back to Canes fandom after taking a mental break in 2014 (remember that season? I don't either), the greatest benefit to my fan experience has been the friendships I've made with other fans. There are some truly awesome people in this community that will lift you up or share a beverage with you when you need it.
And, well, if you ever need someone to write you more than these four pages of hockey fandom therapy — or if you just want someone to yell and cry incoherently about the Carolina Hurricanes with you — come find your girl on Twitter, @loveandhydrogen.